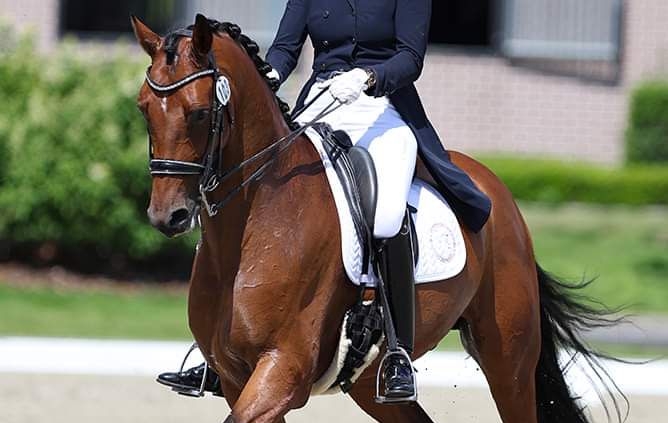 Successful weekend CDI Meerle 7 – 9 July
Last weekend Jorinde could be found at CDI Meerle. In addition to Jorinde, a student from Dressuurstal Verwimp was also present. This weekend Anna Peterson started with her pony Balotelli and her horse Harkelin.
July 7 Jorinde won a 3rd and 4th prize in the Prix St-Georges. Jorinde was 3rd with Ampere's Diamond with 70.539%. The 4th prize went to Golddream vd Kempenhoeve with 69.363%.
Anna started with Balotelli in the team test at the ponies. She achieved a score of 67.476%. With her horse Harlekin she won the team test at the Juniors with 69.596%
Friday, July 8, the Inter 1 was on the program for Jorinde. Golddream vd Kempenhoeve ran to 68.039%. Jorinde scored 66.960% with Ampere's Diamond. Anna and Harlekin became 2nd in the individual test with 67.647%. With Balotelli she scored 68.198% in the individual ponies test
On July 9 Jorinde rode the Inter 1 Freestyle with Ampere's Diamond, scoring 71.110%. Anna also rode the Freestyle on Saturday. With Balotelli she achieved 72.950% in the ponies and with Harlekin she achieved a 1st place in the Juniors with 72.925%
Click here for the rest of the results
https://www.dressuurstalverwimp.be/wp-content/uploads/2022/07/CDI-Meerle-Amperes-Diamond.jpeg
1000
668
Newmore
https://dressuurstalverwimp.be/wp-content/uploads/2020/04/Retina-logo-verwimp.png
Newmore
2022-07-12 10:46:13
2022-07-12 10:48:54
Successful weekend CDI Meerle 7 – 9 July