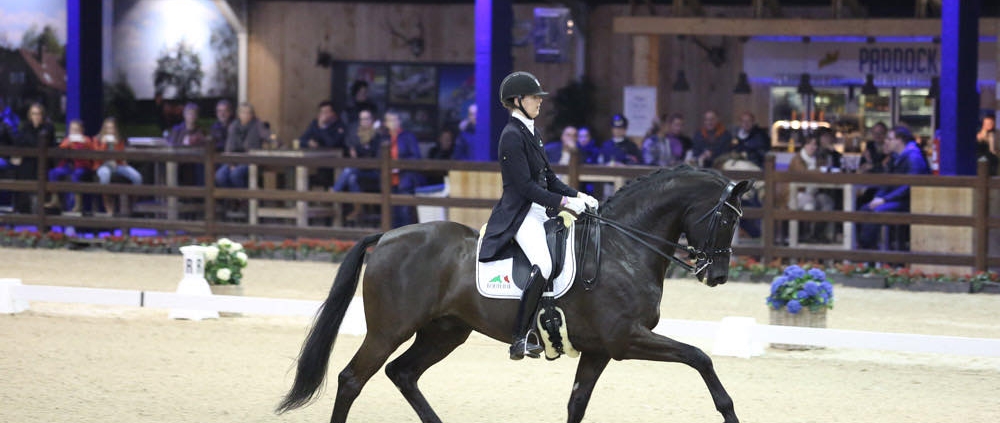 Last competition of 2019: Jumping Mechelen
It was uncertain for a moment but the year 2019 still ended with the favorite competition of Dressuurstal Verwimp. Jumping Mechelen took place from December 26 through December 30. For Jorinde Verwimp, this edition it would be the 10th time in a row that she participated in this much-loved competition in equestrian sport. Adding this competition to the list, the Verwimp team looks back on a successful 2019 where the team won several victories, had several debuts and further developed both themselves and the horses into increasingly better athletes.
Injury
Together with the gelding Arie van Sollenburg (by Olivi) Jorinde can look back to a successful competition period. With the focus on Jumping Mechelen, the preparations went smoothly both during the training sessions and at the competition and the combination was ready for the last competition of the year. Unfortunately, just before Jumping Mechelen, Arie caught a hoof ulcer that seemed to throw a spanner in the works. Fortunately, the sympathetic black gelding was fit again on time due to the right care, which allowed Jorinde to participate in Jumping Mechelen.
New freestyle
Despite the fact that Verwimp could only pick up the training again just before Jumping Mechelen, Arie was in good shape during the tests. She achieved a score of 69.3% with a fifth place during the Small Tour. During the second test, which was the freestyle, the combination achieved a super score of 74.4% and a sixth placement. Extra special about this freestyle was the fact that Jorinde could ride her brandnew freestyle for the first time. "I am super happy with how Arie behaved and continued to listen so well throughout the test. We also had a new freestyle that we drove there for the first time and I enjoyed it every second so it was a very successful race, "said Jorinde about Jumping Mechelen.
CDN Dentergem
There is no time for Jorinde to take it easy in the new year. The first competition of 2020 is planned for next Saturday. With the horses Juwel, Golddream, Eton and Kalahari she will appear in the ring during CDN Dentergem.
https://www.dressuurstalverwimp.be/wp-content/uploads/2020/04/Arie-Sollenburg.jpg
667
1000
Newmore
https://dressuurstalverwimp.be/wp-content/uploads/2020/04/Retina-logo-verwimp.png
Newmore
2019-12-16 11:32:57
2020-05-12 10:52:45
Last competition of 2019: Jumping Mechelen