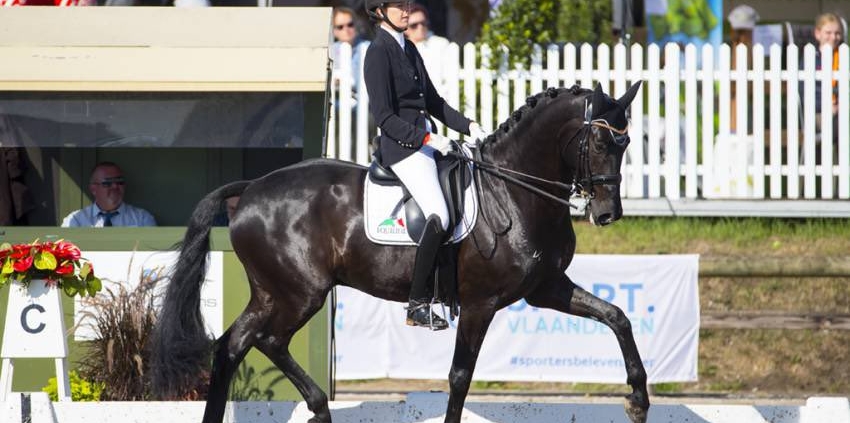 First competition for Team Verwimp after corona break  
Team Verwimp has been looking forward to last weekend for a long time. After excellent preparations, such as organizing various competition-oriented clinics, the time had finally come. The first competition after the corona break could be driven. That the preparations were not for nothing was evident from the results of the team members, including a second place in the Prix St. George for Jorinde Verwimp with Cardento and successful debuts of the pupils of Jorinde and Wim Verwimp.
Podium place for Jorinde Verwimp during PSG
Jorinde Verwimp appeared in the ring with three horses during the first competition. With the black Painted Black gelding Cardento she competed at Prix St. George level. The gelding has a lot of quality for the higher work and showed a good test last weekend, which was scored at 69.06% and a second place. In the Inter I Verwimp competed with Just a Little Bit v/h Klaverhof (s. Tango) with which she achieved 69.5% and a 5th place. With Juwel Krack v/h Klaverhof (s. Jazz) she also participated in the Inter I. The jury really appreciated the test and scored it with 66.9%, which immediately resulted in the first international score!
Alexa Fairchild takes podium place
Also present during the Inter I was a student of Wim Verwimp, Diete Vos. With her gelding Dandy L she managed to put down a strong test that was scored with 70.6% and 4th place! But Diete was not the only student of Wim who managed to score well last weekend. For example, Alexa Fairchild and Dabanos competed during the Grand Prix. With 68% she got her second international score and a 2nd place on the podium. Britt van de Weyer competed with Constantino where she got over 70% during the Pony Team Test.
Young Rider debut for Jorinde's pupils
But not only Wim's students managed to achieve great scores. Jorinde's pupils were also representing Team Verwimp. Kevin van Ham got a fantastic 1st place with 67.9% during his debut in the Inter II. During the Young Riders rubric both Yinthe van de Ven and Matthias Dieltjens made their debut. Yinthe competed with her only 7-year-old No-Limit CV and got a really nice 67.6% with which she immediately received her first international score. Matthias competed with the mare Kalahari with which he showed a nice trot. Unfortunately, he had a few mistakes during the pirouettes which left the score at 64%
In short, it was almost a competition weekend as usual!
https://www.dressuurstalverwimp.be/wp-content/uploads/2020/06/Jorinde-en-Cardento.jpg
566
850
Newmore
https://dressuurstalverwimp.be/wp-content/uploads/2020/04/Retina-logo-verwimp.png
Newmore
2020-06-22 08:42:49
2020-06-22 08:43:04
First competition for Team Verwimp after corona break