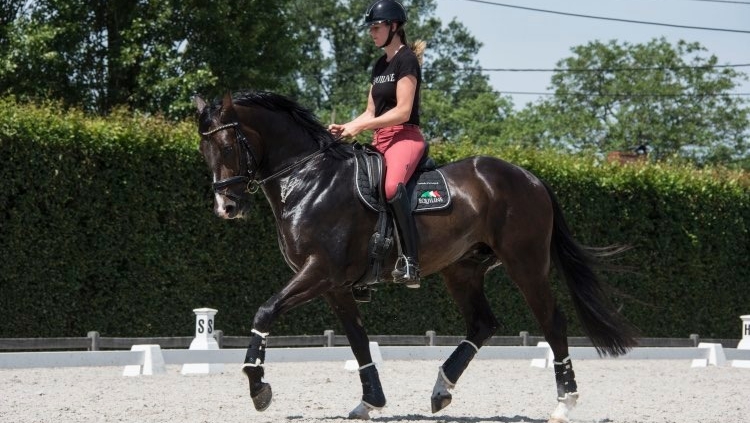 A successful competition debut is something that you as a rider are always proud of. But when this is with your own breeding product, that is of course just a bit more special. This was exactly the case for Jorinde Verwimp last weekend when she competed with the own breeding product of Dressage Stable Verwimp Newberry (by Negro) in a FEI 5-year exhibition competition. Also for the team member of Dressuurstal Verwimp, Ruut Pasgang, it was a successful weekend for young horses with good results.
Jorinde Verwimp
It was for the talented Newberry's the first time that he competed in the arena. The Negro gelding, bred by the Dressage Stable Verwimp, behaved really good which resulted in strong components and an overall nice test. That the jury agreed with this was shown by a high score of 80.6% during the FEI five-year class. In short, a valuable debut which gives a positive outlook for the upcoming official competitions.
Ruut Pasgang
Jorinde's pupil, Ruut Pasgang, successfully closed the weekend with her young horses. She released the five-year-old Karlando in I.1 and I.2. The combination managed to score good results in both tests. With this Ruut and Karlando won the I.1 test with 73.4% and became second with 70.4% in the I.2. Also with her on competition day was the four-year Limited Edition. Limited was released by Ruut in the I.3 where the combination managed to achieve a beautiful score of 77.8%. A good score of 72% was also achieved with the N1.2 test.
https://www.dressuurstalverwimp.be/wp-content/uploads/2020/05/Newberry-en-Jorinde-1.jpg
500
750
Newmore
https://dressuurstalverwimp.be/wp-content/uploads/2020/04/Retina-logo-verwimp.png
Newmore
2020-09-21 07:42:16
2020-09-21 07:58:49
Competition debut with Newberry