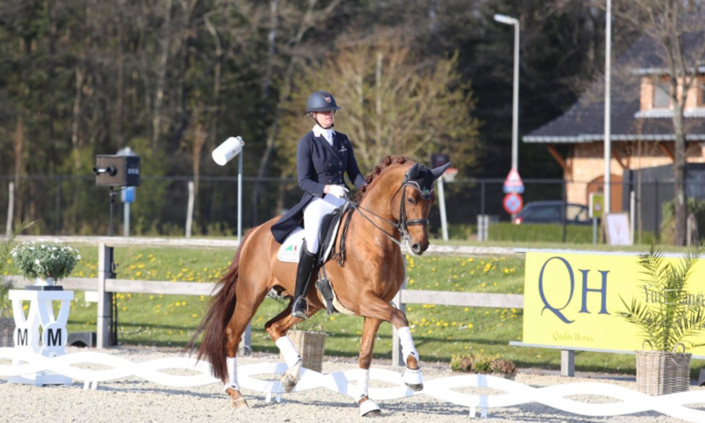 Successful competition weekend for Team Verwimp
Due to the outbreak of the rhino virus, there were unfortunately no more competitions for Team Verwimp after CDN Grote Brogel. Last weekend the team was allowed to go on competition again with their horses and ponies. Emma Driesen and Louise Brauwers showed their horses in Dentergem in the Young Rides and Juniors. In the same weekend Elise Verwimp and Anna Peeters presented their ponies at the well-known competition CDI Sint-Truiden. 
Dentergem
In Dentergem, the Young Riders tests were ridden by Emma Driesen. She presented her horse Grace to the jury. Despite the fact that Grace suffered a bit with tension in both tests, Emma could ride her nicely. The jury judged the tests with two good scores of 67.1% and 69.3%.
In the Junior class Louise Brauwers was allowed to show the qualities of her horses Esprit and Graaf Donnerhal. With her horse Esprit, Louise finished in 2nd place in the classification with a score of 68.48%. Also 3rd place in the rankings went to Louise. This time with her horse Graaf Donnerhall. With this gelding she scored 66.81%.
CDI Sint-Truiden
During CDI Sint-Truiden, 13-year-old rider Anna Peeters made her international debut with her pony Balotelli. What an experience to participate in an international show for the first time. The combination rode a beautiful test, which resulted in an 8th place in the pony individual test with more than 68%!
12-year-old Elise Verwimp also made her international debut in the Children with her horse Boemerang. As Elise self said about her experience, "I am very happy how it turned out. I was able to ride three wonderful tests and my results were also very good for the first time. I am really very proud of  my horse Boomerang. " This beautiful combination learned a lot this weekend and had a lot of fun. All in all, a successful weekend that we can be proud of.
https://www.dressuurstalverwimp.be/wp-content/uploads/2021/04/nieuws-verwimp-5-1.jpg
470
705
Newmore
https://dressuurstalverwimp.be/wp-content/uploads/2020/04/Retina-logo-verwimp.png
Newmore
2021-04-19 16:38:09
2021-04-19 16:39:16
Successful competition weekend for Team Verwimp