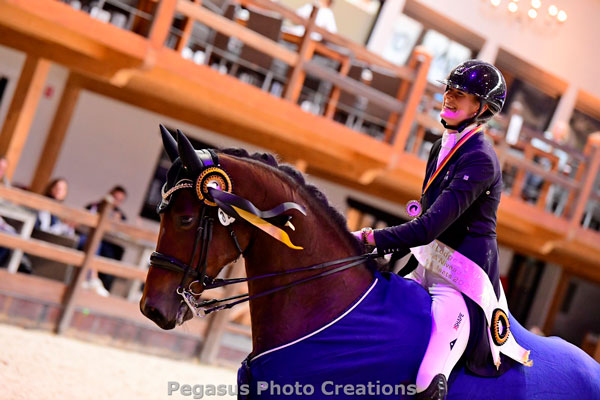 Last week on a Wednesday, the moment arrived: the Belgian Championships in Lier! The fact that the team members of Dressuurstal Verwimp have trained a lot in the past weeks, was reflected in the total results of Belgium Dressage Events. For the top riders (and also the horses) it was a little strange at first to compete without an audience, but it was a wonderful spectacle to follow via the livestream. Rider Jorinde Verwimp showed off three times on the podium and won a bronze, silver and gold medal with her horses Ampere's Diamond, Golddream and Charmer! From the Verwimp stable, twenty-one beautiful combinations have competed for various honorary titles. Curious about the final results of this dream team? Read them below!
Grand Prix
Grand Prix rider Jorinde Verwimp took part in the rubric with her gelding Cape Town (v. Conteur) and took seventh place with her freestyle. Rider Kevin van Ham appeared in the ring with his horse Eros and ended up in 8th place. The ranking was further expanded with the combination of Alexa Fairchild and Davanos, who finished in 5th place.
Small Tour
Jorinde also competed in the Small Tour with her gems Golddream and Gina's Pearl. She competed for the title together with two other riders from Team Verwimp. Jorinde could reward herself with the silver medal with Golddream under saddle and finished in 10th place with Gina's Pearl. Her competitor Sophie van Lent Baetens claimed fifth place with Sir Highlan and Hannelore Volders counted on her horse Dominico. She rode to the 14th place with her score.
Level 4
Jorinde rode Ampere's Diamond in this rubric. They achieved the bronze medal as a beautiful combination! Eefje Appelmans and Dynamic also rode a well-practiced freestyle, finishing in 6th place. The combinations Ruut Pasgang and James Pleasure and Hannah Buteneers and Cabri Joli followed in 8th and 11th place.
Level 5
Level 5 was also ridden by Verwimp's dream team. Jorinde threw her Charmer (by Charmeur) into the battle and won the gold medal! Annemik Vleugels appeared in the ring with Havidoff and Emma Driesen with Gelinia. They followed Jorinde a little further in the rankings in 16th and 14th place.
Young Riders, Juniors, Children and Ponies
The young riders of Team Verwimp also showed in various rubrics what they have to offer this year. In the YR competition, the two combinations Yinthe van de Ven with Nolimit and Matthias Dieltjes with Kalahari, competed for the title. They finished in 8th and 11th place in the rankings. In the Juniors rubric, represented Louise Brauwers the team with Esprit and finished in the 8th place.
Helena Colling reached 5th place with Demoiselle under saddle in the Children's rubric! Britt van de Weyer showed her Constantino on the podium in the ponies rubric with a gold medal and Maite Colling with Donalson and Anna Peeters with Contador followed her in 7th and 10th place in the ranking.
https://www.dressuurstalverwimp.be/wp-content/uploads/2020/10/jorinde020-10-03_15.26.19_3_web.jpg
400
600
Newmore
https://dressuurstalverwimp.be/wp-content/uploads/2020/04/Retina-logo-verwimp.png
Newmore
2020-10-08 12:57:09
2020-10-08 14:42:43
Looking back at the BC Dressage and the results of Team Verwimp