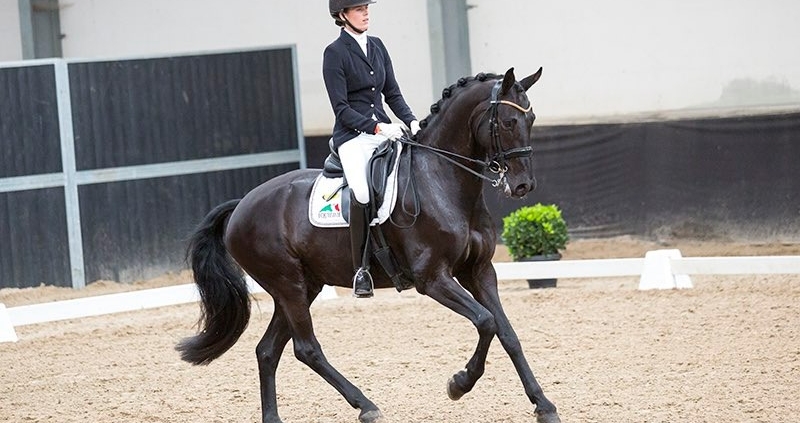 After a successful Belgian Championship, Jorinde Verwimp and her pupils Yinthe van de Ven and Ruut Pasgang were also busy last weekend. They competed for various podium places at the CDN Maldegem at Hidalgo and the Championship KR in Kortessem at Equestrian Center PC Stables. What for one combination resulted in a podium place, it was good exercise for the other. Next week the next challenge is planned: the CDN Dentergem!
Prix ​​St. Georges
The Prix St. Georges class during the CDN Maldegem, started unfortunately a bit challengeable for Verwimp with her Cardento. According to Jorinde: "He was in utmost concentration, but unfortunately due to some miscommunications, the pirouettes did not resulted very well. Practice makes perfect, so next week we will go for a second attempt at the CDN Dentergem. New round, new opportunities!'.
Young Riders
Jorinde's student Yinthe van de Ven competed last weekend in the Young Riders class with Gina's Pearl for a podium place. Dressage tests with some flaws, but that certainly did not spoil the fun!
The combination of Yinthe and Jorinde's horse Gina showed a beautiful trot tour in both dressage tests. In the first test some minor rider mistakes were made in the pirouette and in the second test the combination lost some points because they rode incorrect. It was not the place in the rankings that Yinthe had in mind, but it was still a great success, according to Van de Ven: "I am very happy that I could take Gina's Pearl with me to a competition for the first time, what an experience! I would therefore like to thank Jorinde for this unique opportunity! ".
Championship KR in Kortessem
Also equestrian Ruut Pasgang had her hands full this weekend at the Championship KR at Equestrian Sports Center PC Stables in Kortessem. She rode with her horses Karlando and Limited Edition in the second round very strong rubrics, finishing in second and third place in the final classification!
In her second test in I.2 she rode with Karlando a score of 74.6%, which earned her a second place. With their score, they achieved a bronze medal with Level 0 in the final classification.
In the second test in N1.3, with Limited Edition under saddle, Pasgang rode to a score of 73%, which earned her a second place. With this score they achieved a silver medal with level 1 in the final classification.
A weekend that started with some healthy tensity, ended very successfully, says Ruut: "I am very proud of my youngsters! I would like to thank KR for the nice nature prizes and the good organization and a big congratulations to all other prize winners. A good end to this season! ".
https://www.dressuurstalverwimp.be/wp-content/uploads/2020/07/Cardento.jpg
533
800
Newmore
https://dressuurstalverwimp.be/wp-content/uploads/2020/04/Retina-logo-verwimp.png
Newmore
2020-10-12 15:58:07
2020-10-12 15:59:40
Practice makes perfect for team Verwimp at CDN Maldegem and Championship KR in Kortessem