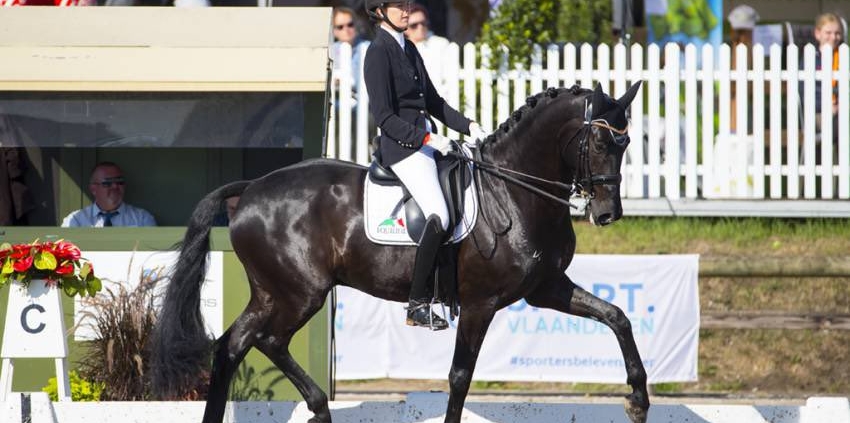 "Something impossible, doesn't exist"! This seems to be the motto of the driven team Verwimp. In the green town of Dentergem, great performances were again achieved this weekend at the CDN Dentergem! Jorinde Verwimp won the Prix St. Georges honorary title with her horse Cardento and Yinthe van de Ven and Emma Driesen rode excellent dressage tests. The hard training is paying off!
Honorary title Prix St. Georges
Good news, which we are glad to share: Jorinde achieved a very powerful dressage test with her horse Cardento during the PSG and won the honorary title with a score of 71.3%! Not only did she rise in the rankings with Cardento, she also achieved an impressive score with Just a little bit Krack v / h Klaverhof. They achieved a score of 68.8% in intermediate I and came second.
Unfortunately, the debut with her horse Charmer in the intermediate II was a little less successful than hoped, according to Verwimp: "In my opinion, there were a lot of mistakes in the test, so I greeted before the last line. Both the jury members and the audience were amazed by my move, because it turned out: we had a score of 69.7%! I didn't realize that, but we learned from it! "
Young Riders
Although things were not going well last week, Yinthe van de Ven and Gina's Pearl went all out for a second chance this weekend. A test that really shows the difference, says Van de Ven: "I really have a good feeling about this match! It was a test without major mistakes and the pirouette felt like how it always feels. With a nice score of 66.5%, we finished in fourth place. "
Emma Driesen was also very satisfied with her Grace. "I am very happy with Grace under the saddle! Today we rode for the second time in PSG and achieved our international selection. We even got a few eights on our series and finished in third place. We've got the hang of it now, on to the next competition! ".
First indoor season competition
Ruiter Ruut Pasgang heralded the indoor season at Rijhal De Damberg in Bocholt this weekend. She rode an excellent test with James under saddle and got rewarded with a shiny gold medal! With her score of 70.6%, she rode to first place in the N4.2.
https://www.dressuurstalverwimp.be/wp-content/uploads/2020/06/Jorinde-en-Cardento.jpg
566
850
Newmore
https://dressuurstalverwimp.be/wp-content/uploads/2020/04/Retina-logo-verwimp.png
Newmore
2020-10-19 14:20:28
2020-10-19 14:20:28
New round, new opportunities: Successful CDN Dentergem for team Verwimp and Jorinde wins PSG